How to commission
Fill the form on this page, describing the subject you have in mind (historical period, nationality, war theatre, etc.), the category (Single Figure, Small Diorama, etc.), and your nationality, complete with your postal code. These details will allow me to elaborate a project, based on accurate preliminary research, that I will submit to you in a matter of days through email, together with an accurate evaluation of the working costs and time (which include the necessary material, my performance and shipping costs). To accept the budget it'll be sufficient to answer affirmatively to my mail and pay an advance price equal to 30% of the whole cost, through Paypal. It will be my responsibility to keep you constantly updated on the progress, sending you photographic material of the various stages of the process. You'll be informed as soon as the work is concluded and only then you'll have to take out your billfold, to pay the bill. A couple of days later your figure (suitably packed and sheltered from any damage) will start its journey on an UPS truck, which you'll be able to track through the Tracking Number assigned to it.


An idea of the costs
A 1:6 scale requests an extremely high level of execution, because the smallest oversight or inaccuracy would be noticed inexorably, especially from an expert collector! To obtain such results, it can take from the two weeks necessary to create a single figure (which becomes three, if you want to insert it into a "Small Diorama"), to the sixty days it took to create the "Large Diorama", like the one pictured. While creative, my work isn't much different from the one of a craftsman: I start in the morning and go on till night. To roughly quantify my work then, imagine to commission a piece of furniture to an expert carpenter! Feel free to contact me: I'll be happy to answer any detailed question, without any commitment on your part.
Commissions
Which figure or setting would you like to see shine from your showcase? Voice your wish and I will turn it into vibrating matter: an exclusive and fascinating collection piece , to admire over and over, to be able to catch every detail. Everything executed with the standard "Museum Quality". As well as the historical/representative function, my works distinguish themselves for the vividness they emanate, which puts them closer to an actual expressive form, than to a simple exposition mannequin.
Single figure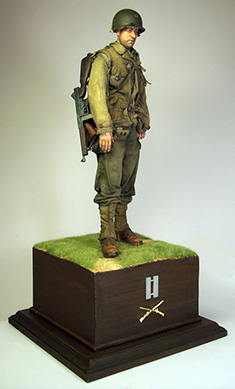 Small diorama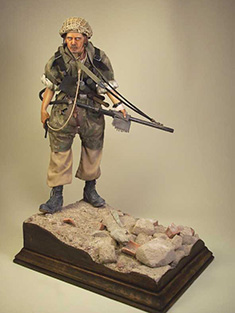 Medium diorama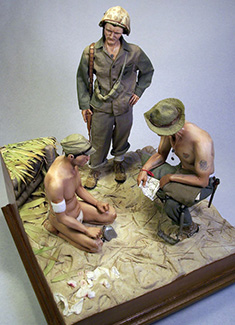 Large diorama